I am a young writer by every definition, twenty-one and relatively inexperienced. My ideas for my career are half-formed. Accordingly, this is an education-heavy portion of my life, which is good. I'm not going to college like many of my peers, but I am actively learning and developing myself as an editorial professional (broadly speaking).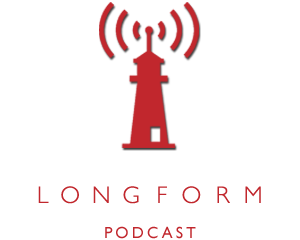 Part of that is working, part of it is reading, and an increasingly large part is listening — not only to people in my "real" life, but also listening to wise strangers who aren't addressing me specifically. For instance, I pay close attention to the journalists interviewed by Max Linsky, Aaron Lammer, and Evan Ratliff on the Longform podcast. (Only a few months ago, I didn't like podcasts, but that opinion changed quickly after I acquired a commute.)
I don't have access to many professional writers in my "real" life. Sure, occasionally I hang out with Adam Brinklow and I got to meet Yael Grauer the other day, but mostly I encounter regular people with a bunch of different types of jobs. Which is fine — variety is the spice of life, right? Only interacting with one type of person would be like having salt on your food and eschewing all over flavors.
But I dearly want to feel connected to people who do the work I aspire to. The Longform podcast gives me a window into the circumstances and habits of journalists I admire, and it feels… nourishing. It makes me believe the career I'm in love with is possible.
It's awesome that the internet enables this. I know it was technically possible back when people mainly read words on paper, but not in the same way, at the same scale, or on demand. In 1985 I couldn't have Twitter-followed everyone who wrote an article I liked, to keep up with their future posts and maybe talk to them personally. Being able to do that is so cool — and it helps me stay motivated.