I compiled a zine for the SideQuest Gallery show Femme 4ever. Originally it was going to be printed in glorious color, but then I made a hasty ink-purchasing decision and screwed that up completely. ($45, down the drain. Four and a half hours of my life. ARGH.) Luckily, color is cheap on the internet, so here's a digital version: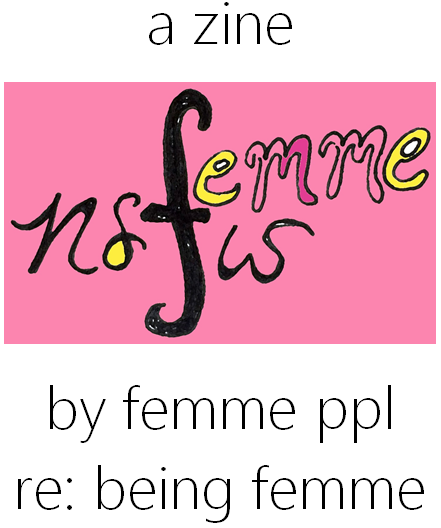 ---

I am a trans woman, but I have no idea what it's like to be a woman.
When I was asked to write something for this show, I had to stop and think for a moment. It was explained to me that it would be a femme-themed show, and I had this moment of realization that I have no idea what it's like to be femme.
My first reaction was to politely decline submitting something, but something inside me thought that maybe this would be a fine excuse to explore why I feel the way that I do about being femme. So I started to read.
There's this scene in Shadow Manifesto, a comic by Annie Mok, where she's speaking with Merritt Kopas in a bedroom, and Kopas asks if she can smoke. Mok says it's fine, but asks her to blow out the window because the smell bothers her.
As she's blowing smoke out the window, Mok compares her to a teenager, saying, "Like a teen goth dyke on her bed." To which Kopas replies, "I didn't get to have a high school experience."
Mok simply replies, "Same."
It hurt to read these words because they remind me so much of my own regret.
For much of the past four years, I feel like I've been mourning the high school experience I never got to have. More than that, I've grappled with this profound sense of loss, because I remain utterly, utterly convinced that if I had this experience, if I had gotten to live the childhood and adolescence that I wanted, then maybe I would actually know what it means to "feel like a woman" today.
I wanted this essay to be about what being a woman and trying to be femme means to me, but every time I sit down to write it, I feel like a liar, because in a lot of ways, I still think of myself as male.
Every time I wear a dress, I see only a dude fooling himself in the mirror.
Despite years of hormone treatments, a small fortune spent on therapy, and countless hours burned in self-introspection, I still find myself in the same position I was in years ago.
Every day I dress myself in gender neutral clothing: t-shirt,
jeans, cardigan or hoodie. Every bit of me yearns to reach for a dress and tell the guilt to fuck off… but I don't.
I realize the problematic nature of tying up the idea of being femme with the clothes that I wear, but I know that the woman I am inside isn't afraid of what other people think when she tries to look and be feminine.
At its core, I believe being a woman means having the freedom to choose. I'm not quite there yet, because I elect to stay in my gilded cotton cage of clothing that may fit my body but doesn't quite fit my heart.
These limitations I place on myself because I don't fit in the standard binary gender norms are what hold me back from fully realizing my gender. I am what holds me back from being what I want to be.
There's this quote from author Anthony Marra that says, "Inside us there is a word that we cannot pronounce; that is who we are." I have no idea how to properly spell out these feelings of why I don't meet my own definition of womanhood, these standards that I would never hold to anybody else.
Maybe someday soon, I won't define myself by my lack of experiences, but by my efforts to create new ones. I won't be defined by my uncomfortable feelings with decisions that invite judgement from the outside world. I will be seen the way I wish to be seen, and I can not, will not put myself down for doing so.
At the end of all this, I still feel that I don't know what it's like to be femme.
But I so desperately want to know.
---
i spent a lot of time
questioning
if i was doing femme
"right"
then i stopped
performing
femme
apologetically
and started living
femme
defiantly
---
Imprints (a short story)
The first time you kissed her was this morning, but last year. This morning a year ago. The first time you kissed her was on the cheek, the soft place that should be a hollow underneath the cheekbone. She filled her mouth with air so the cheeks pushed out and your kiss bounced off. "Hey," you said, and she laughed. "Ha ha," you said, but you felt rebuffed, because you knew that you were.
Her friends told you not to settle. They said, "She's elusive," ee-loo-sivv, like mercury in an old thermometer, winking in the light, hard to catch more than a glimpse of. Mercury spread on glass makes a mirror. Literally, that's how they used to make mirrors. You don't know what the current industrial method is. But that's just like her, to spread over glass and reflect whatever anyone else thinks.
Your friends thought it was crazy that her friends didn't want you to fall in love with her. The bartender who you only see when he's working said, pouring you a shitty drink because that's the kind he can get away with giving out for free, "Maybe her friends don't think you're, like, you're fucking good enough. Who's this chick again?"
You said, taking the drink in the short glass, which was sticky on the sides because he sloshed the simple syrup, "They don't seem stuck up like that. I dunno, maybe," and then the bartender cut off your sentence with an example of his own ex and how her friends never liked him and you are a very sympathetic listener. You are surprised that you haven't heard this tirade before because occasionally it seems that people only say things to you when they're sure you already know.
It's like the first conversations were rehearsals and now people are doing the same performance over and over again.
You fall in love with her anyway. Who could help it, right? Why else would you reflect on the first kiss a year later?
Her best friend was tall because she wore high heels, higher than you even though you felt like you were towering on three-inch platforms. She said, laughing, "Watch out for this one."
And you said, "Okay, I'll try."
Watching out for her was easy. She circled, like a cat, but didn't play cruel games. She was the mouse, the one being chased. You never had the illusion that she couldn't escape if she wanted to. Sometimes she got bored and disappeared for a while, ignoring texts until suddenly (it seemed sudden) she decided to reply, "Hey," and invite you over again. You'd rub her back and feel her skin that ran hot, her feet that were never cold under the covers, and let her crush you against the bed.
You liked watching her get dressed in the morning. Tight jeans, tight shoes, insouciant but cranky. She wore less makeup than you and put it on less carefully, but you still felt like her results were more glamorous. She had black mascara flecks under her eyes but no eyeliner, no blush, eyebrows groomed but not tinted. When it was your turn in front of the mirror you were methodical and she exclaimed, "You look so gooood!"
The first kiss was just a failed flirt. Later she decided that she was interested, so the kisses were better. She bit your neck and your collarbone and your ribs. She grabbed your hair and smothered your face downward against the pillow, so you left lipstick and powder on the white cotton. She didn't mind. "It's like a modern Egyptian death mask," she said.
---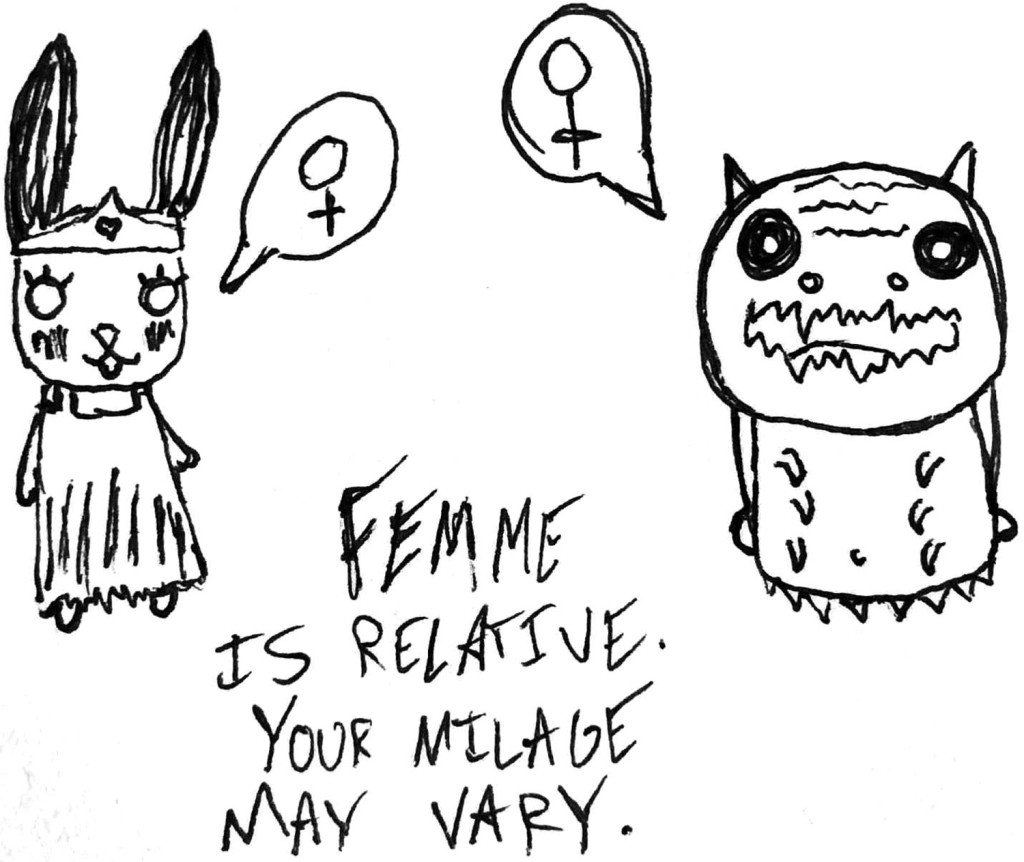 ---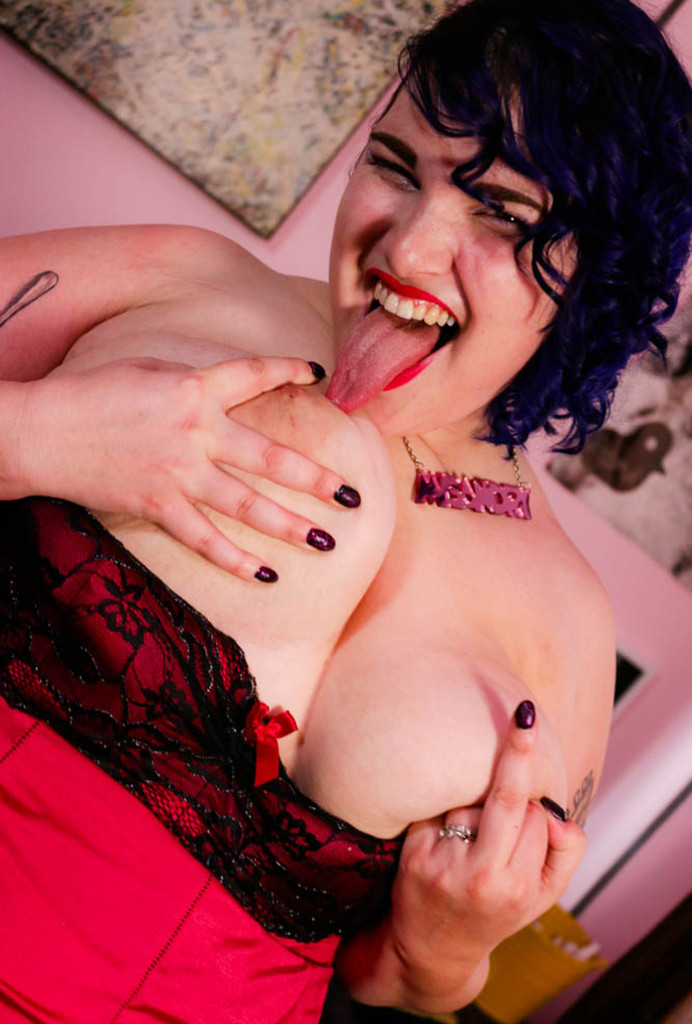 ---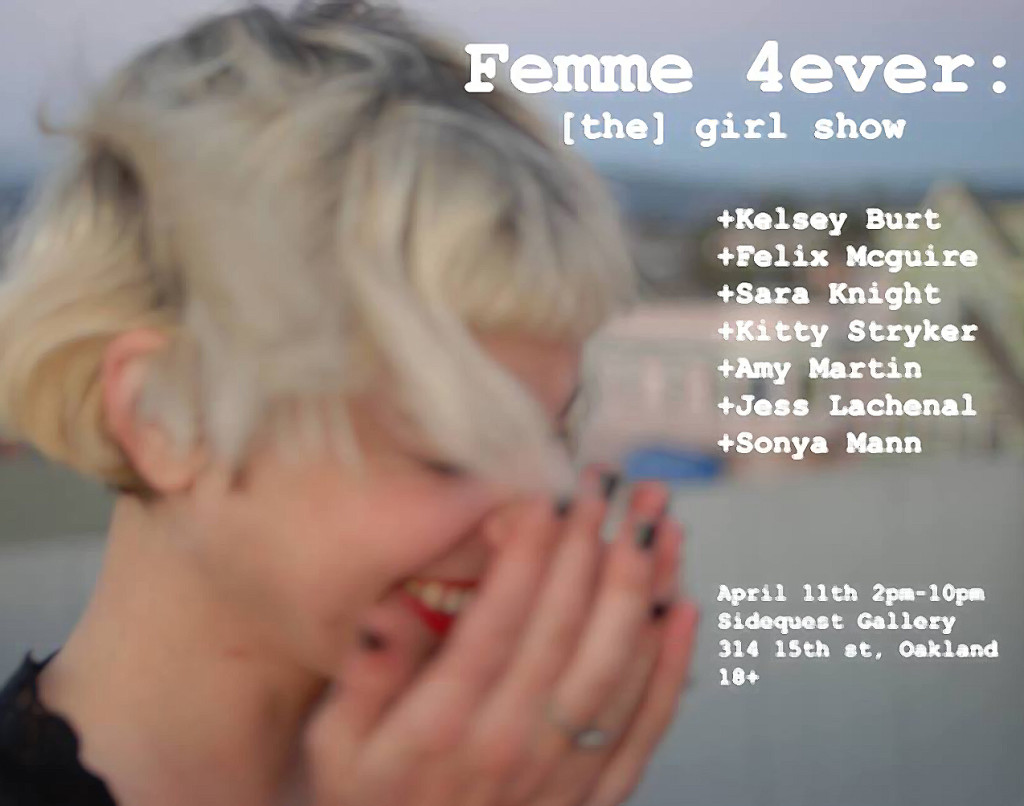 Femme 4ever = art show by
Kelsey Burt & Felix McGuire & Sara Knight & Kitty Stryker
& Amy Martin & Jessica Lachenal & Sonya Mann
& other participants who aren't on the poster because of timing
including everyone who showed up!
& the people who supported our femmeness as it formed
<3 <3 <3
4/11/2015, SideQuest Gallery
(314 15th Street, Oakland, CA 94612)