Graceful Party is a black-and-white perzine. The first issue consists of 34 pages, wherein author Claire discusses lunar geography, flowers, horror dreams, and local diner menus, not to mention ghosts. She warns the reader on the first page, "If you have nothing but disdain for feminine trivia, please turn back now."
I enjoyed this zine a lot. Surprisingly, so did my dad. He is a 58-year-old man, not necessarily the target audience. Dad said, "I especially like the sort of headlong quality of her writing. It's just — coming out!"
Graceful Party #1 is available for trade and probably also for money — maybe even free? You can email gracefulpartyzine@gmail.com or check out this Tumblr post.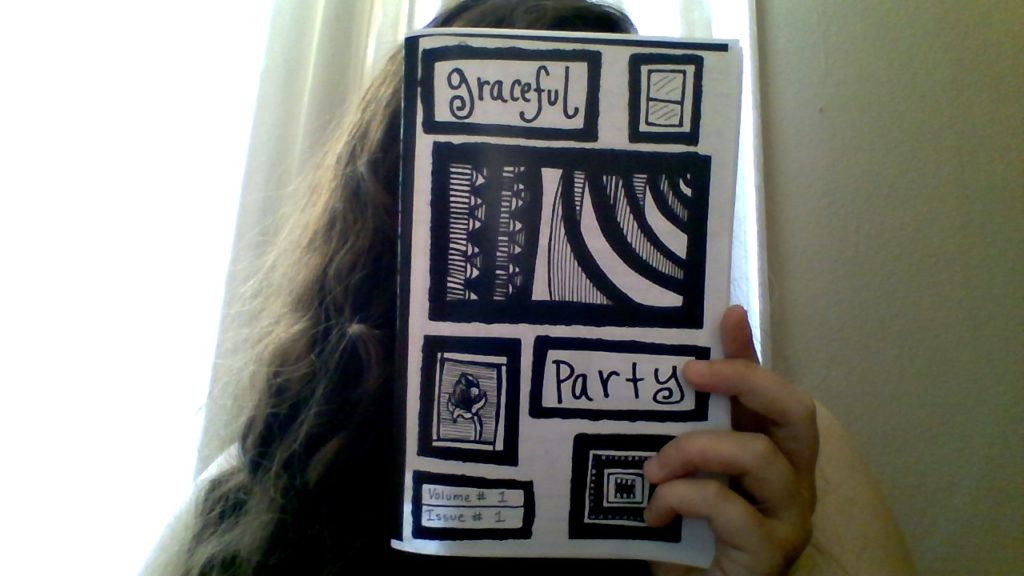 I appreciated the beautiful presentation of this zine. Floral wrapping paper and a handwritten note made me realize that I've been neglecting an essential part of the snail-mail experience when I send out my own zines. I can't write a personal note for every envelope of Balm Digest, but I can take a little more care to make the package fun to open. It's awesome that zines are a multi-stage experience, a sensory experience, and I want to create a special moment at the beginning like Claire did.
The content of Graceful Party #1 is a combination of illustrations and whimsical commentary. Drawings are done with thick black lines that have an incongruous buoyant quality. There is a lot of visual repetition, using the sort of mesmerizing patterns found in a book of optical illusions. Claire's narrative dabbles in the occult, with friendly girlish handwriting. Think Buffy the Vampire Slayer rather than HP Lovecraft. Claire asks on page 22, "In daily life, how are you haunted? How might you be a ghost? Are you already a ghost? How? What is a ghost? Discuss."
Near the end of the zine, Claire suggests listening to Unknown Rooms by Chelsea Wolfe, Brooklyn White, and Circus Maximus by Momus. On the last page, she explains references from throughout the zine, and provides credit for Creative Commons content, which thrilled me. Intellectual property is very important, but so many people flagrantly disregard it. All in all, I found Graceful Party #1 wonderful. If you love reading snippets of other people's lives and are a fan of Ghostbusters or The X-Files, then I recommend this zine.